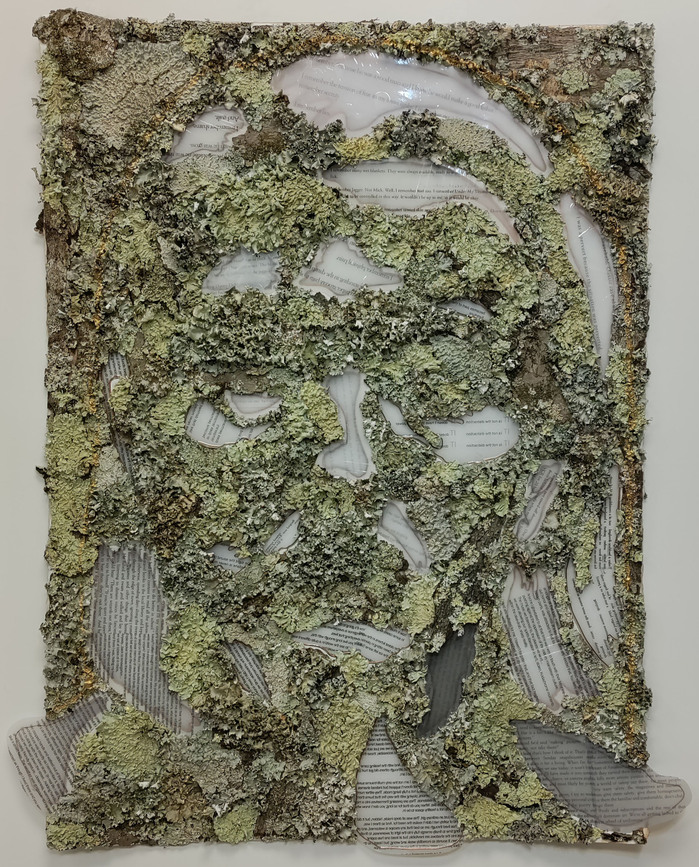 in__Visible is a two-sided self portrait. Side 1 is a graphite self-portrait where highlight value shapes have been represented in written word (mine and others; all inspirational) captured in copper wire and epoxy resin. Side 2 is my portrait shape infused with lichen and outlined in gold leaf. The same captured words are visible. Some words can be read on either side.

As I age, I am moved toward self-portraiture.
I stand against society's fear and loathing.
I make myself VISIBLE.
in__Visible
Every experience brings me to this very moment.
Nature is the path that leads me home, to myself.
The whole is greater than the sum of its parts.
No good or bad.
No positive or negative.
It is all simply…truth.
The bad becomes good in the transformation of self.
Age = Wisdom = Truth
Truth of the present moment.
Truth of Being…
Visible.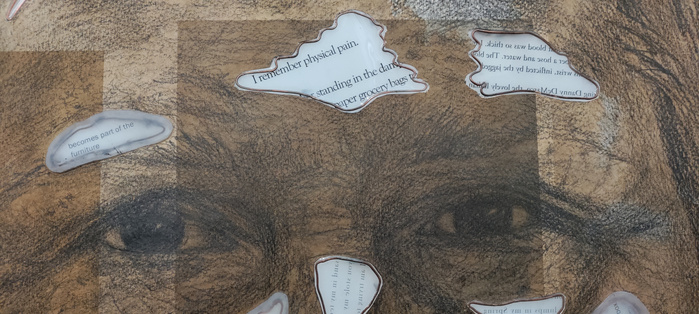 "…Lichen is the outward manifestation of process…
…it's not the parts…
You can never predict from the bits and pieces within it how it's going to behave.
Emergence is everywhere around us, in everything that lives.
And if you live long enough with this, you start to see the world in a quite different way:
The idea that the world has agency,
So that things are always
in the process
of
becoming."
~Trevor Goward, Lichenologist; from the short film LICHEN by Lisa Jackson, 2019
coffee, tea, graphite, copper, epoxy resin, lichen,
my writing, recovery, insight, excerpts from:
The Bridges of Madison County
by Robert James Waller, Power by Adrienne Rich,
& transcripts of Trevor Goward, Lichenologist from
the short film LICHEN by Lisa Jackson
*Special thanks to Alissa Ohashi for reference photography*