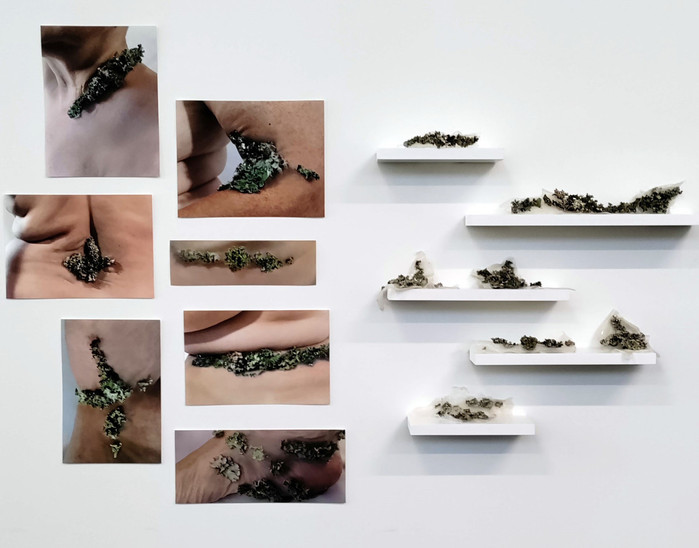 Worn is a mixed media installation comprised of cast silicone and lichen objects shown on the body in photographic evidence.
We are Nature, Nature is Us.
We admire shapes and forms in nature, yet this admiration does not transfer to our own bodies. We admire the wrinkling leaves in the fall, the undulating forms of flora, yet when our own flesh wrinkles, dimples, and folds over on itself we despair. This despair proliferates ageism in our culture. Nature is not ageist. Nature is supreme beauty, and we only need to follow her example. We don't attempt to inject smoothing agents into the autumn leaves. We admire as they fall; yet autumn is the dusk of death. It is the very fear of death that forces manipulation of flesh in painful and grotesque ways.
Yet we accept death as a part of life so easily in Nature.
Perhaps because we think we are somehow above it?
This fear of death leads to fear of aging, and fear turns to loathing.
Loathing turns to blindness, making the aged invisible.
cast silicone, lichen, altered photography, my self, inspiration, wisdom
*Special thanks to Erica Rodney for studio assistance and photography*